ATLANTA, GA –This past fall, students across campus proposed innovative and creative solutions to support individuals aging with disabilities using Stretch – an open-source mobile manipulator robot with reaching, grasping, and sensing capabilities developed by Hello Robot. The Stretch Robot Pitch Competition was hosted by Georgia Tech and sponsored by TechSAge RERC, in collaboration with Hello Robot and AI-CARING. The competition was open to all Georgia Tech students, regardless of major, and encouraged interdisciplinary collaboration.
In designing their robotic concepts, students demonstrated their problem-solving and entrepreneurial skills, as well as their ability to work in teams. An expert panel of researchers and industry professionals evaluated students' forward-thinking robotics design concepts and provided feedback on usefulness, feasibility, and potential. This year, the first-place winner of the competition received a $1,000 cash award and the opportunity to develop and test their concept in collaboration with Georgia Tech researchers in a lab. Honorable mentions received cash awards of $500 each.
"This competition showcases the incredible talent and drive of our students," said Sonia Chernova, an associate professor in the College of Computing and AI-CARING Institute director. "I've been incredibly impressed by the innovative project ideas that bring together cutting-edge robotics and AI research to address critical societal needs."
This was the second year of the Stretch Robot Pitch Competition with the initial competition held in 2021 at the University of Illinois Urbana-Champaign. The competition continues to be a great opportunity for students to showcase their talents and receive recognition for their innovative ideas on supporting adults aging with disabilities.
1st Place
VR Stretch Robot Housekeeper for People Aging with Long-Term Mobility Disabilities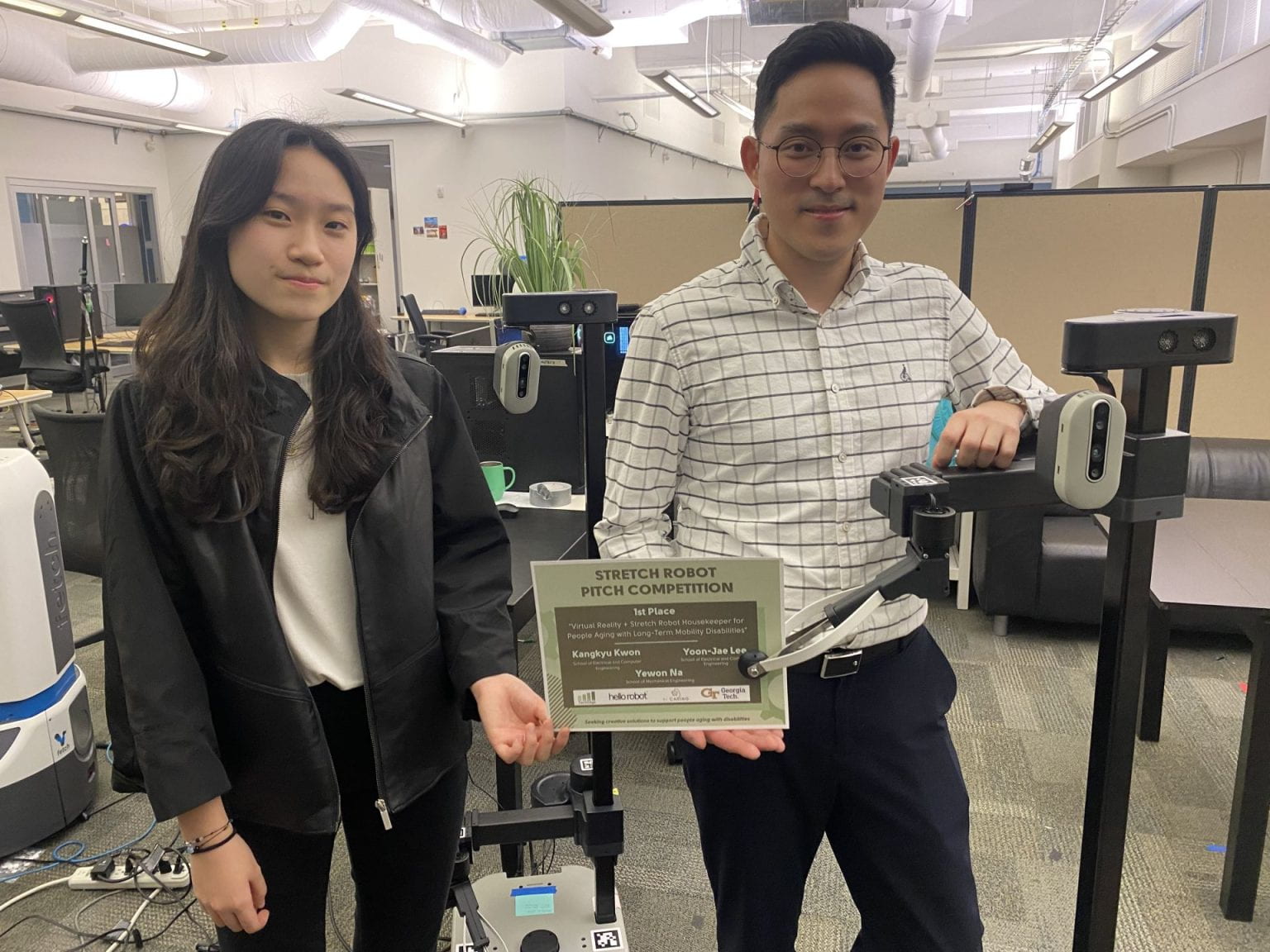 Kangkyu Kwon and Yoon-Jae Phillip Lee (School of Electrical and Computer Engineering), along with Yewon Na (School of Mechanical Engineering), developed a virtual reality (VR)-based concept to support individuals aging with disabilities with the help of Stretch.
Goal: To integrate VR with Stretch to support individuals with disabilities with tasks that may require assistance, such as getting up to grab an item or opening a drawer.
The team's idea involves 3D mapping, an app, a machine learning model, and hand movement translation. To continually improve their prototype, this team plans to gather feedback from users during the testing phase, which will require physical components, such as flexible sensors that detect movement and muscle activity; a VR headset; and a camera on the robot. In addition, software components of a machine learning model and an app that allows hand tracking and control of the robot's movement are essential to this project. Users will have to wear the sensors on their forearm and the VR headset to track their hand movements, which will control the robot.
Honorable Mention
Giving Back Autonomy with Remote Wrist Control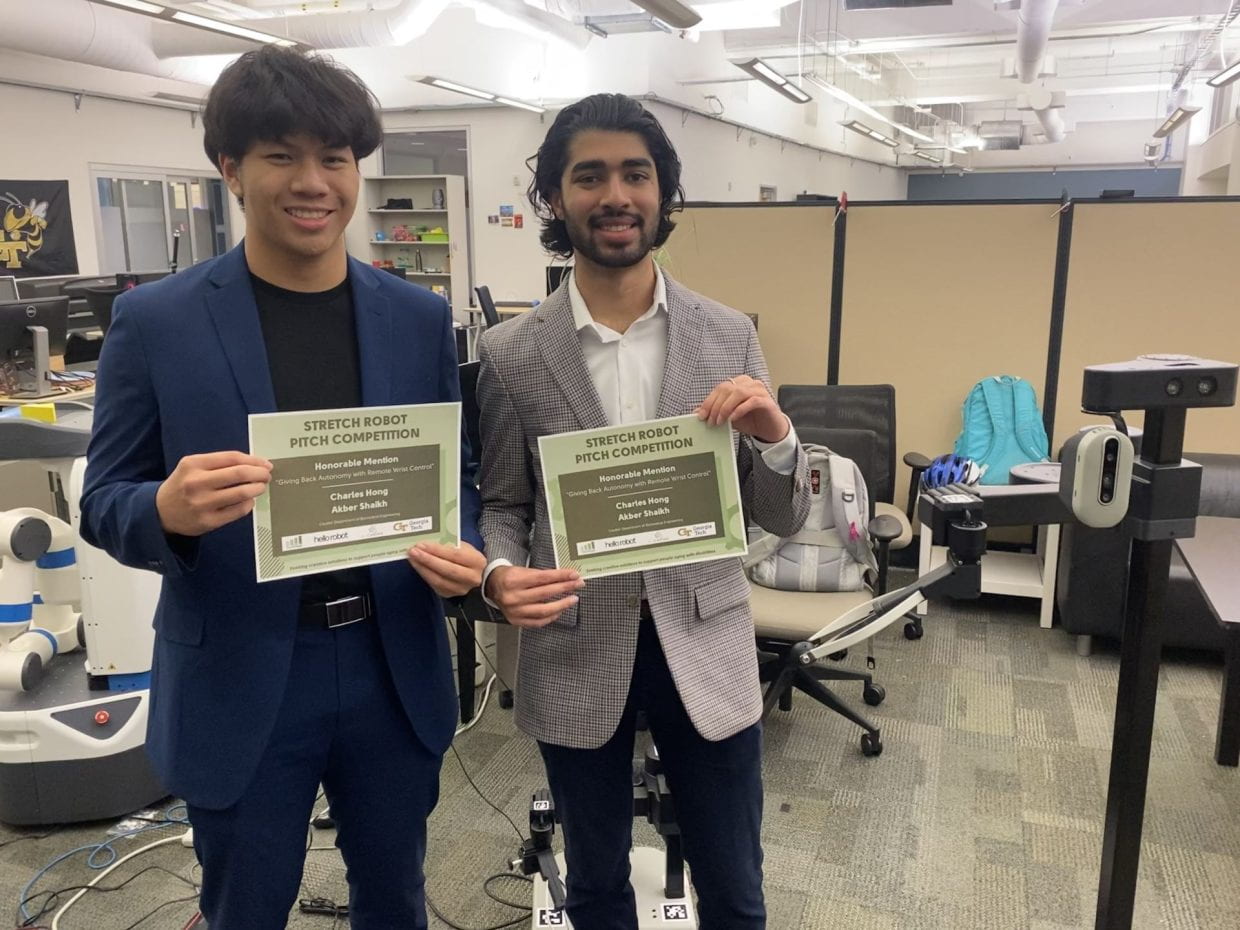 Charles Hong and Akber Shaikh of the Wallace H. Coulter Department of Biomedical Engineering proposed a wrist control device that promotes autonomy and self-sufficiency among people aging with mobility disabilities.
Goal: To allow individuals with mobility disabilities to manipulate Stretch's dexterous wrist attachment, so they can pick up, move, and rotate objects remotely to support everyday tasks, like picking up objects around the house.
The device's design is based on the idea that "simplicity is elegance," according to their proposal, and consists of a circular ring fitted with a rotating handle and a set of buttons mounted on a baseplate. See figure 1.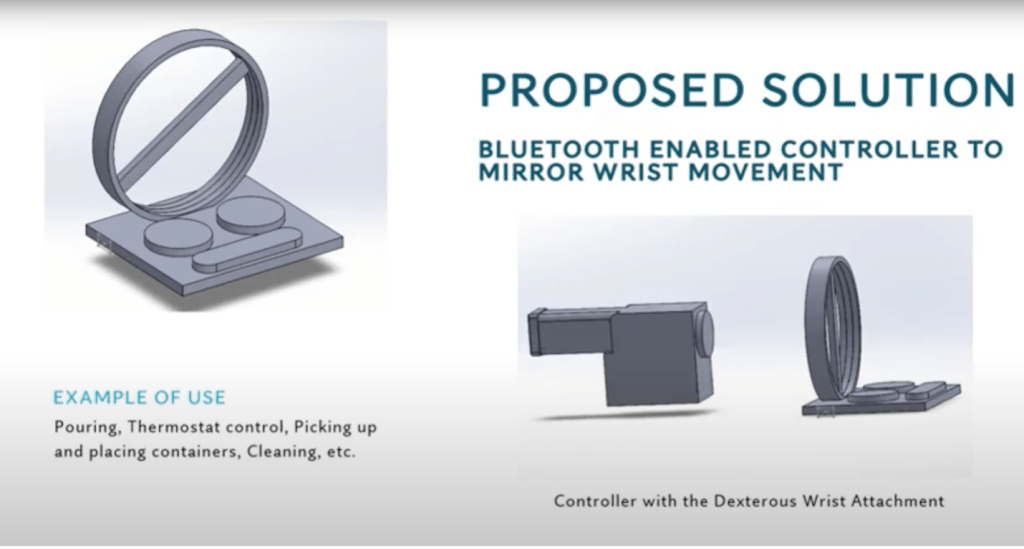 The concept features low resistance buttons and a rotating handle that are accessible for individuals with limited hand mobility. Signal smoothing would be integrated into the software to ensure that any tremors or accidental movements would not be translated to the wrist attachment in error. Additionally, an emergency stop button has been included for safety. The team's device will be designed using an iterative approach, integrating feedback from caretakers and patients at every stage of the design process.
Honorable Mention
Identification and Manipulation Guidance for Older Adults with Vision Impairment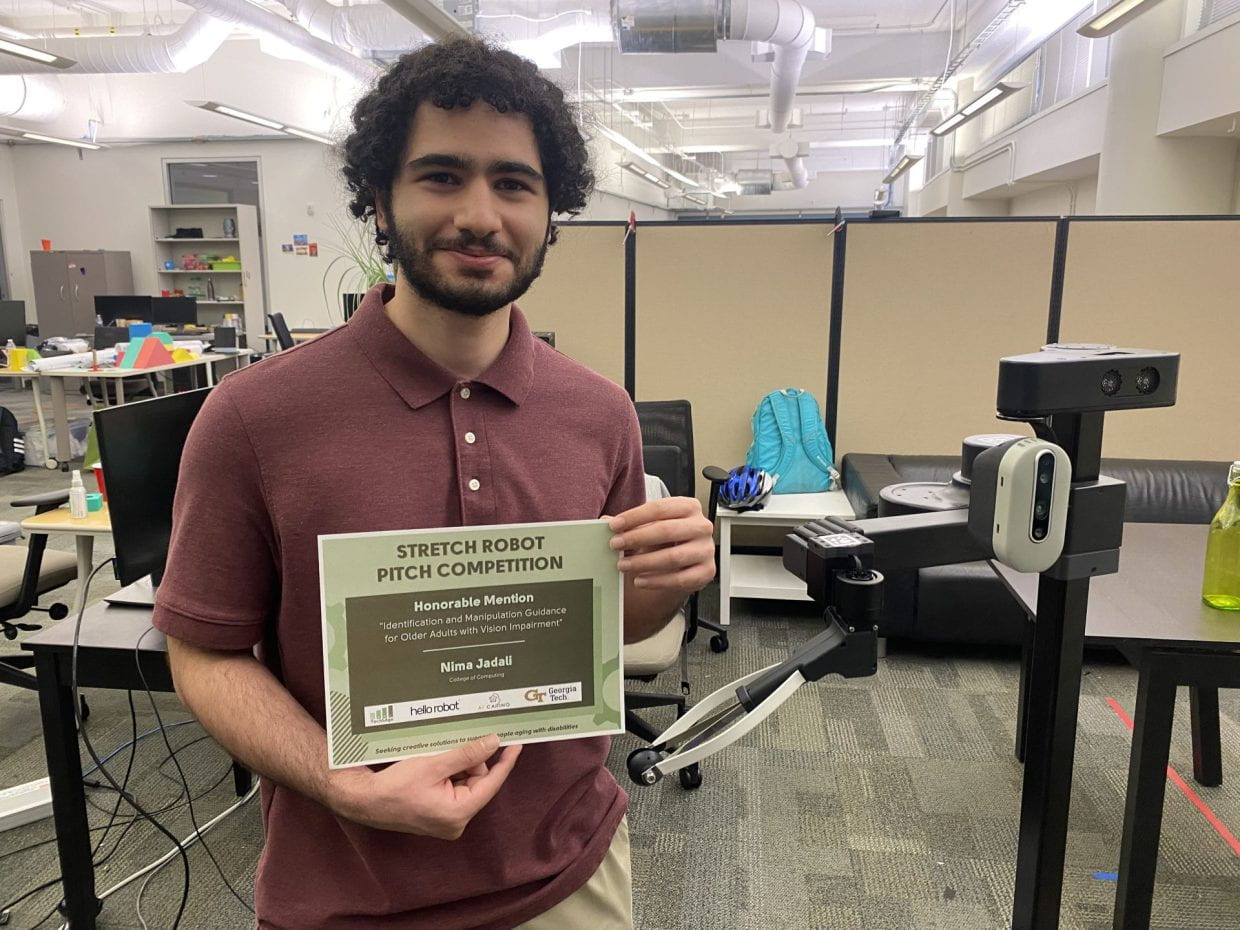 Nima Jadali of the College of Computing proposed an object identification and verification module for Stretch to support individuals who are blind or low vision with daily activities, such as taking medications.
GOAL: To support users with vision impairment, this concept allows the robot to locate specific objects in the environment, verify objects in the user's hand, and give instructions to the user on where to find objects.
Jadali's proposed module aims to help users maintain their independence in completing daily tasks while reducing direct interference of the robot. His proposed module will incorporate speech recognition, task identification, and object identification. Each of these components are critical to this concept as they will allow users to provide information in the form of instructions based on the individual robot's system.
About the Competition Sponsors
The TechSAge Rehabilitation Engineering Research Center (TechSAge RERC) is a collaborative grant center focused on developing supportive technologies for people aging with long-term disabilities based at Georgia Tech, University of Illinois Urbana-Champaign, and Georgia State University. TechSAge is funded by the National Institute on Disability, Independent Living, and Rehabilitation Research (NIDILRR).
Hello Robot is the company behind Stretch and was co-founded by Dr. Aaron Edsinger, a former robotics director at Google, and Charlie Kemp, a Georgia Tech professor of Biomedical Engineering and the director of the Healthcare Robotics Lab.
AI-CARING is a collaborative research institute, led by Georgia Tech, focused on developing the next generation of personalized collaborative Artificial Intelligence (AI) systems to support older adults and their network of care partners.
For more information on the competition, please visit https://techsage.gatech.edu/stretch-robot-pitch-competition-gt.
About Georgia Tech
The Georgia Institute of Technology, or Georgia Tech, is one of the top public research universities in the U.S., developing leaders who advance technology and improve the human condition. The Institute offers business, computing, design, engineering, liberal arts, and sciences degrees. Its more than 46,000 students, representing 50 states and more than 150 countries, study at the main campus in Atlanta, at campuses in France and China, and through distance and online learning. As a leading technological university, Georgia Tech is an engine of economic development for Georgia, the Southeast, and the nation, conducting more than $1 billion in research annually for government, industry, and society. For more information, please visit https://gatech.edu.
Media Contact
Breon Martin
AI Communications Officer
Georgia Tech – Institute Communications